Alex Murdaugh's trial for the murder of his wife and son begins with opening statements
Opening statements began Wednesday afternoon in Walterboro, South Carolina, in the trial of Alex Murdaugh, who has been charged with the 2021 murders of his wife and youngest son – the most serious and the grisliest of allegations faced by the once prominent, but now disbarred, attorney.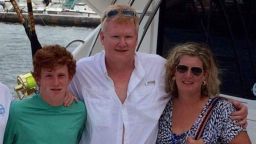 Murdaugh has pleaded not guilty to two counts of murder and two counts of possession of a weapon during the commission of a violent crime in the killings of his wife Margaret (known as Maggie) and 22-year-old son Paul on June 7, 2021. South Carolina Attorney General Alan Wilson, whose office is prosecuting the case, announced last month prosecutors would not seek the death penalty but life in prison without parole if Murdaugh is convicted.
"The evidence is going to show that neither Paul nor Maggie had any defensive wounds," lead prosecutor Creighton Waters told the jury in his opening statement Wednesday, after two days of jury selection ended with 12 trial jurors and six alternatives being seated. "Neither one of them had any defensive wounds, as if they didn't see a threat coming from their attacker."
Waters promised the evidence will show the victims were shot at close range, as illustrated by the stippling, or the marks left on their bodies due to the close proximity of the weapon that killed them.
Murdaugh "told anyone who would listen" that he was not present at the scene of the killings, Waters said. But "the evidence is also going to show," the prosecutor said, holding up a cellphone, "from these things that every one of us – most of us – carry around in our pocket, that he was there. And he was there just minutes before with Maggie and Paul."
Prosecutors accuse Murdaugh of committing the murders to distract attention from a series of alleged illicit schemes he was running to stave off "personal legal and financial ruin," according to court filings. Evidence will show, the state claims, that Murdaugh's alleged financial crimes were "about to come to light" when his wife and son were killed.
A Colleton County grand jury indicted Murdaugh in their deaths 13 months later. By that time, Murdaugh had "fallen from grace," in the words of his own attorney, buried under a mountain of allegations of white-collar theft and fraud.
Separate from the murder charges, Murdaugh faces 99 charges stemming from 19 grand jury indictments for various crimes, according to the state attorney general's office, including allegedly defrauding his clients and former law firm of nearly $9 million. Just last month, the AG's office announced Murdaugh had been indicted for tax evasion for failing to report almost $7 million of income earned through illegal acts, for which he allegedly owes the state almost $500,000.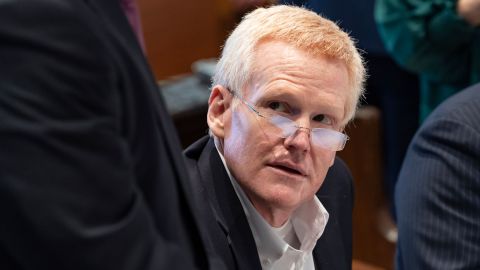 Alex Murdaugh prepares for jury selection to resume during his murder trial at the Colleton County Courthouse in Walterboro, South Carolina.Joshua Boucher/Pool/The State/AP
Murdaugh, who has denied involvement in their deaths, called 911 the night of the killings to report he'd found his wife and son shot dead at the family's home. Murdaugh's attorneys blasted prosecutors for the charges, issuing a statement addressed to family and friends saying he loved his wife and son "more than anything in the world."
Murdaugh's attorneys are "fully prepared to challenge the State's allegations, and to demonstrate the weaknesses in the State's case before a Colleton County jury," they said in a statement Sunday.
"Alex looks forward to this opportunity to clear his name of these heinous charges," they said, "so that the Attorney General can finally begin looking for the actual killer or killers of Alex's beloved wife and son."
The jury selection process was complicated by the prominence of the Murdaugh family and name: What was already a gripping tragedy worthy of true crime podcasts and documentaries was given a Southern Gothic twist, in large part because three generations of Murdaughs over 87 years served as solicitor for the 14th Circuit, which oversaw prosecutions throughout the South Carolina Lowcountry.
Indeed, in the Colleton County courtroom where Murdaugh pleaded not guilty last summer, a portrait of his late grandfather, one of the solicitors, had hung on the wall.
The portrait was removed ahead of Murdaugh's trial.
A fall from grace
The facade began to crumble several months after the killings, when Murdaugh called 911 to report he'd been shot on the side of the road in Hampton County, not far from his home.
But he later told authorities he conspired with a former client, Curtis Edward Smith, to kill him as part of an insurance fraud scheme, per court documents, purportedly so his surviving son could collect a $10 million life insurance payout.
Murdaugh had resigned from his law firm Peters, Murdaugh, Parker, Eltzroth & Detrick, or PMPED, the day prior to the shooting. His attorneys said he struggled with an opioid addiction and was entering rehab, while the firm said his resignation followed "the discovery by PMPED that Alex misappropriated funds in violation of PMPED standards and policies."
The Murdaugh killings also led to renewed interest in other deaths within the family's orbit, including that of their longtime housekeeper, Gloria Satterfield. She died in 2018 in what was described as a "trip and fall accident" at the family's home. Prosecutors would later allege Murdaugh connected Satterfield's family to another attorney to help them sue Murdaugh himself for insurance money he ultimately pocketed.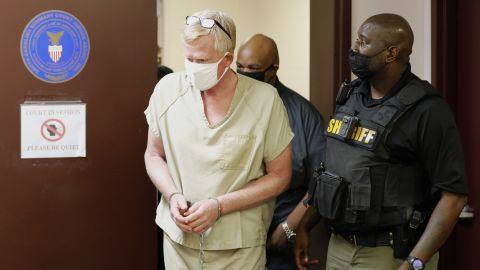 Alex Murdaugh walks into a bond hearing on Thursday, September 16, 2021, in Varnville, South Carolina.Mic Smith/AP
The Murdaugh case also brought fresh scrutiny to February 2019 death of 19-year-old Mallory Beach, who was killed when a boat, allegedly driven by Paul Murdaugh, struck a bridge piling. At the time of his death, the 22-year-old was facing charges of boating under the influence causing great bodily harm and causing death. He had pleaded not guilty, and court records show the charges were dropped after his death.
Beach's family filed suit against Alex Murdaugh, who owned the boat, and his financial records – which state court filings said "would expose (Murdaugh) for his years of alleged misdeeds" – would likely have been disclosed in a hearing scheduled for June 10, 2021, three days after Maggie and Paul were killed.
Following their deaths, the hearing was canceled, putting off what prosecutors described in court records as a "day of reckoning."
Prosecutors have indicated these cases and others help illustrate a potential motive for Murdaugh to kill his wife and son. When Murdaugh was arraigned on the murder charges, prosecutor Creighton Waters said the information gathered in the grand jury case, including allegations of white-collar fraud, "provides the background and the motive for what happened on June 7, 2021."
As for Murdaugh, he remained defiant that day. When asked how he wanted to be tried, responded, "by God and by country."
Source:CNN